Beginner's Guide for Parents to Teach Coding to the Kids
Beginner's Guide for Parents to Teach Coding to the Kids
We've all heard the saying - " The only constant in life is change" by the Greek philosopher Heraclitus. In this dynamic world, markets (or industries) are evolving. They are adapting to new needs and changes. Similarly, the education industry is progressing and accommodating new trends as well. Learning starts from home and parents are the first teachers children are exposed to. With digital skills getting popular around the world, it is imperative that we prepare our children to adapt to this modern industry.
Introducing computer programming to your children is a recommended move in that direction. However, guiding your kids to learn programming might seem daunting at first, especially for those who are not familiar with the nuances of code. Fortunately, there are tons of resources available in the form of apps, videos, softwares and tutorials to help you get started over some fundamentals.
"Everyone should learn how to code. It teaches you how to think."
Steve Jobs
So where to begin?

This write-up will guide you through some of the resources that can help you maneuver your way through programming. It will give you a head start and guide you to help your children understand programming better.
Start exploring
Introduce your child to the world of coding - make it relevant
Talk about coding languages
Introduce them to coding platforms
Familiarize them with coding terms
Personalised Learning
Start exploring
Before getting your children involved, we encourage you to explore some options ahead of time. There is no dearth of information available on the Internet. Your inclination and ability to look for information will facilitate your learning. All you need is a system and a stable internet connection.
To get a basic understanding of coding you can throw-in some keywords on Google or Youtube. Use phrases like:
Fundamentals of computer programming
Coding for kids
Introduction to coding
Minecraft and coding
This reading exercise will help you understand basic coding nuances. You can also indulge in board games or computer games to see how coding concepts play a role. Self-paced courses that offer coding lessons are another option to get more information on coding. Some of them are:
Introduce your child to the world of coding - make it relevant

How do you introduce coding to your children without overwhelming them? Make it relatable from their standpoint. Connect coding to things that your children already enjoy. It is easier to explain coding to children by associating familiar knowledge as a base. It will keep them engaged while providing a continuity to their learning.
This can be done through video games, books, sports,etc. For example, you can explain the concept of a database citing examples of a book. Or the concept of a loop while watching a F1 track race. You can show them videos on the skill set they can develop from coding. Explain how technology impacts our lives - from connecting people to various gadgets, etc. Encourage them to talk to their friends about how their favourite video games couldn't be possible without coding. Visit a technology museum or encourage them to join a technology club at school.
By sticking to the areas of familiarity, they'll be able to easily see how programming is present in everyday life.

Talk about coding languages
Simply put, coding or programming enables the human beings to interact with a computer. We speak many languages and dialects across the world, similarly there are many programming languages as well.
Choosing the right coding language for your children is the most important. This determines how children can engage and develop their skills in coding. For the younger kids, languages like JavaScript and Lua are recommended. Programming languages can be learnt through blocks, at this point, without the burden of syntax. The older children can take up Java, JavaScript or Python.
Explain that all these programming languages are used to code websites, apps, robots and much more. For example, Netflix, Uber, GooglePay,etc are programmed using JavaScript and Node.Js languages. Youtube, Spotify,Instagram, DropBox and Pinterest are made using Python.

Introduce them to coding platforms
In order to write a computer program, we need an environment where one can create, run and share programs. A programming platform lets us use a coding language to instruct a computer to create something. Here are some coding platforms that will give your children hands-on experience of programming.

Scratch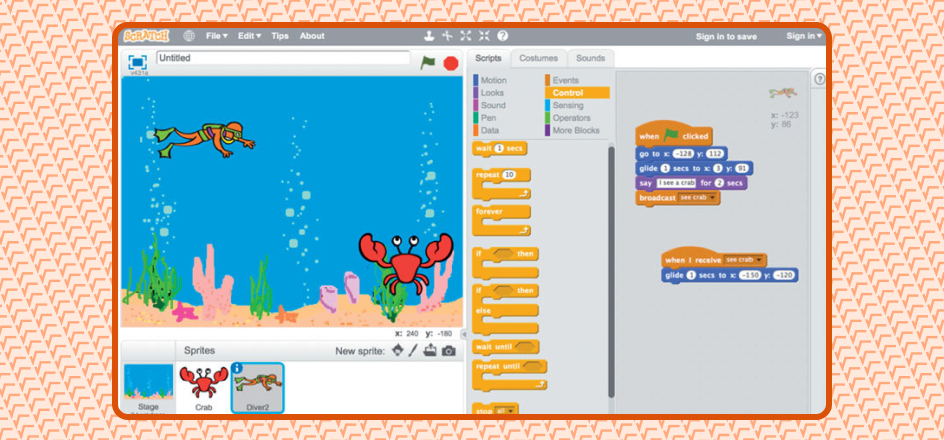 Scratch is a block-based visual coding platform. It is primarily targeted for children between the ages of 8-16. On Scratch, coding can be simplified using colorful blocks that need to be logically arranged in order to run a program and see the output.
At Cuemath, children explore Scratch's block-based instruction interface. The drag and drop programming style of Scratch is an excellent preliminary tool for kids to learn programming. They create interactive programs, further boosting their interest in programming and computer languages.

Code.org
Code.org offers several self-paced coding modules. Catering to different age groups, your children can explore : Sprite Lab, Artist Lab, App Lab and Game Lab. These labs guide your children to create their own games and apps.
Cuemath has an extensive program inculcating code.org modules. Children from grades 1 to 7 are taken through Sprite Lab, Game Lab and App Lab. Cuemath's curriculum covers all the core concepts of programming by guiding your child through the puzzles and activities in code.org. Games and apps are developed making the experience fun and engaging.

Tynker
Tynker is another popular visual coding platform that offers a programming environment for kids aged 5-18. The younger children can explore block-based coding and eventually transition to text based coding languages like JavaScript and Python.

These platforms offer short programs that are fun, yet challenging. Children can create their own games, apps and web pages using real-time programming languages.

Familiarize them with coding terms
Every language has a vocabulary of its own. So do the programming languages. Although the syntax varies, all programming languages are fundamentally similar. Explaining a coding definition can get tricky for your children to understand. Instead try and simplify these terms below and relate them to real-life. We recommend familiarizing with terms such as :
Variables
Conditionals
Loops
Functions
Variables
Variables are like containers that hold an item. A variable in programming stores data like text, numbers, etc.

Conditionals
Conditionals help the computer to make a decision and direct the flow of the program. For example, if the temperature outside is above 30 degrees, set the AC to "Cool" mode. Otherwise, set it to "Auto" mode.

Loops
Loops allow you to repeat a block of code a number of times. That's how we are able to play our favorite songs on our phone continuously.
Functions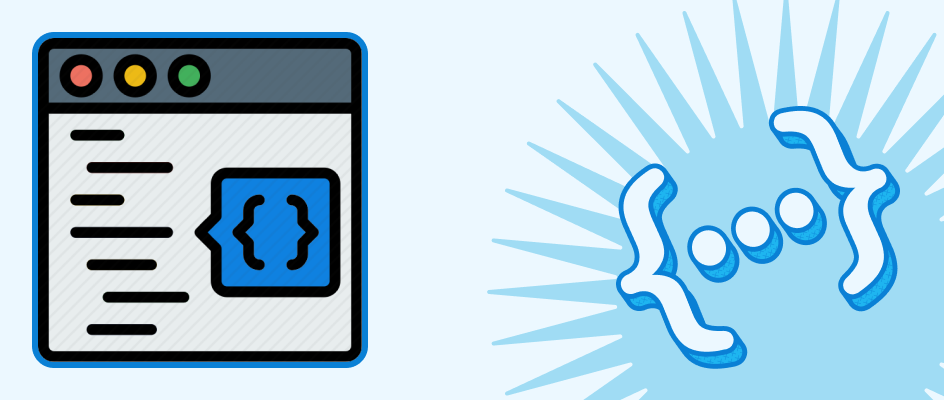 Functions help in making the code smart. Rather than writing the same set of instructions again and again, it helps us to reuse the code. Write once and use it as many times as required.

You can read more about the fundamentals of programming, here.
Personalized Learning

Learning to code has endless benefits for parents and children alike. Being adaptive and future ready will lead to better prospects. Having said that, it is inevitable that you are going to encounter a roadblock during this process. Concepts will get elaborate and advanced as you progress. Self-paced learning is passive. It lacks human connection and might not be as interactive as your children might expect. Consequently leading to loss of interest.
This is where tutor based online learning programs come to the rescue. At Cuemath we bridge this gap. Qualified and passionate tutors are assigned to teach your children the coding concepts in a fun and interactive way. By building games and designing apps children develop computational thinking. Personal 1:1 attention is given to every child that keeps the engagement value going. We are here to make sure that your child's is tech literate.
Cuemath's curriculum is designed to inculcate a wholesome learning experience. It is compliant with the US Common Core plus accredited by STEM.org. The curriculum is a blend of multimedia, text and puzzle based learning. Teaching coding this way is definitely more exciting. Every child is unique and depending on their interest, age and previous coding knowledge you can choose courses from any of the tracks.
Computing is the new literacy and is here to stay. We suggest you to make the best of it. At Cuemath we believe that learning to code at an early age is crucial. Cuemath provides live 1:1 Live Online Coding classes and Math classes. Book a free demo class with Cuemath and have your child experience the magic of coding. The popularity and demand for coding for kids is following an upward trend and hence Cuemath has created stellar learning outcomes for 200,000+ students across 20+ countries with 10,000+ expert tutors.
---
-By Akhila Sankarabandi
Akhila is a teacher, artist, and a content creator, who is currently a part of the Cuemath family. A graduate in Computer Science, she began her career with Infosys Ltd. Apart from teaching, she also curated general knowledge and travel content for children at Greycaps Ltd. Teaching computer science to school students, got her involved in building teaching-learning methodologies and different lesson plan structures. She is an avid reader, traveller and a keen listener. That's probably why children enjoy her company. She has stories to tell, lends a listening ear and invites good laughter!
Share
Award winning math
curriculum
Award-winning math curriculum, FREE for a year
Get access to unlimited practice material, gamified puzzles and grade-wise worksheets
Learn More About Cuemath