How The Best Teachers Improve Classroom Environment?
4th January 2021
Reading time: 3 minutes
Introduction

A great classroom environment comes from the heart. It creates a feeling of belonging and pride with ownership.
The teacher community has been ever growing in terms of quantity and quality. Technology plays a pivotal role in improving the quality and creating awareness on many topics.
Teachers need to be equipped with a lot of ideas, ice breakers and child-friendly environment to create an everlasting bond with the students.
Also read:
---
Downloadable PDF
A good class environment is needed for efficient learning. Download the PDF below to know more about good classroom environment!
| | | |
| --- | --- | --- |
| 📥 | How can teachers improve their classroom environment? | |
---
Six steps teachers follow to improve the classroom environment
Put yourself in the parent's shoes
There was a teacher named Radha (name changed), my daughter's first grade class teacher. She was a parent who later became a teacher when her daughter joined pre-kg in a reputed school.
She was given her first assignment as the class teacher of the first grade. This first grade had a varied level of students – bright ones, naughty ones and obedient ones.
That being her first year as a teacher, and being a parent herself, Radha could empathize with the parents' psychology and the first thing that she did was to share her mobile number with each parent! She put herself in the parents' shoes to understand them better and tend to their kids' needs sensitively.
Invest time to gather attention
Radha never started off with the classes directly. She used to narrate stories from the Hindu mythology (a 10 minute ice breaker) to which the children listened with rapt attention and then she used to start her classes. The attention span then continued to the lessons as well.
The 10 minutes could have been a big issue with the school management, but she proved that she could get better attention span and thereby achieve better learning outcomes by the investment of the first 10 minutes.
Praise special behaviors and success, in the peer groups
As Radha progressed with her classes everyday, she realized that there was this little girl, Minnah (name changed) who could not cope up with the pace of the class. The previous year's class teacher had already labelled Minnah as dirty and inattentive. She used to be irregular and always in untidy uniform. Minnah was reprimanded several times by the previous class teacher.
This teacher, Radha, finally managed to make Minnah recite a poem in class. Then made the whole class applaud her. This apparently had created a huge impact on my daughter. She narrated the whole incident to me. She would otherwise not remember to share classroom routines.
So, we see that, this not only motivated that little girl Minnah, but also made other children understand that sharing and accepting others' success is a part of their own success as well. Thus, this empathetic behavior of the teacher had positive influence on the other children.
Correct non-compliance with politeness
An incident during my third grade in school is what made me the teacher I am today. We used to have a ten-minute snack break in the morning.
There was a small sweet shop near the school gate which attracted us often. After pestering my mom for small amounts of money, I used to rush to the gate, to buy those candies and come back by the end of 10 minutes of break time.
The school Principal saw me running to the exit. She stopped to question me. My heart stopped for a split second. She then politely inquired what I was trying to do, and engaged me for those 10 minutes. She neither scolded nor advised me against going to the shop.
But asked me what I planned to do, then the break-end bell rang. I told her that I would go back to class, and since then I never visited the sweet shop again!
Empower children to think beyond the curriculum
The children of this generation are very smart and very often are able to visualize better than we do. So, in my class, we used to organize events where the children do the projects by themselves.
Children are empowered to make presentations with their own ideas. The presentations are made for the parents as an event. This increases the self confidence of the children and the parents begin to value their relationship with the teacher for a longer period.
The schools tests their knowledge by way of exams, but this project work brings out their presentation skills. These students show their talents in a creative form. This also gives them an edge over their peers as they understand the concepts more clearly.
Discipline and thrust of learning
The classroom should be supportive enough to create the thirst for learning. Charts showing the points won, and the deliverables to be met, go a long way in reminding the students on the plan of action ahead.
This also give them a short feedback on the points earned by them, thereby motivating them in the classroom, Places should be earmarked for their workbooks and other materials and the students should take ownership and pride in following the process.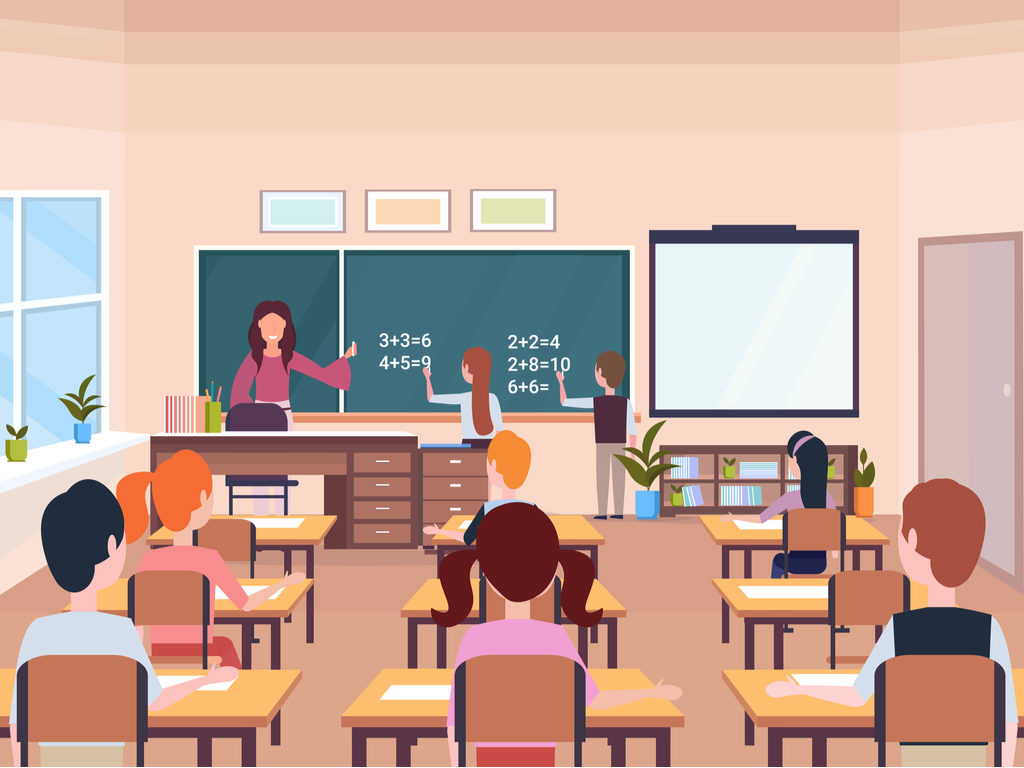 Right from placing the footwear and entering the classroom, the students should follow the process. Classes should be intermixed with humor to reduce the stress even if it meant to be on the teacher herself.
Being punctual and taking care of their belongings in class should be inculcated right from the beginning. All these measures will create a healthy atmosphere and induce discipline in students.
---
Conclusion
The above six steps to improve classroom environment would be greatly achieved if the following mindfulness is practiced in case of children who still show anxiety and anger.
Children with anxiety need to come ten minutes prior to class time for warm up.

Eye contact with the teacher has a calming effect on them.

Small techniques like pranayama or simple breathe in/breathe out should be done at a special place assigned for the child to be seated.

If the child is comfortable moving around, a designated area for roaming is to be assigned, within the view of the teacher.
The best teachers not only keep updating themselves, but also improvise the external influences which enhance the learning outcomes of the students. The classroom environment should bring in the feeling that every student is respected, listened to and motivated positively. Instructions should be subtle but effective.
Children should be given ownership to lead and excel. Thus the underlying features of the teacher with the best classroom environment can be described as:
Respectful → Listening → Empowering → Trusting → Empathizing → Humorous
---
About Cuemath
Cuemath, a student-friendly mathematics and coding platform, conducts regular Online Live Classes for academics and skill-development, and their Mental Math App, on both iOS and Android, is a one-stop solution for kids to develop multiple skills.Understand the Cuemath Fee structure and sign up for a free trial.
---
Frequently Asked Questions (FAQs)
What is the role of the teacher in the classroom?
The primary role of a teacher is to deliver classroom instruction that helps students learn. In addition to ensuring that students experience academic success, teachers must also function as surrogate parents, mentors and counselors, and even almost-politicians. There is almost no limit to the roles a teacher may play.
In what ways school improve their educational environment?
Encourage students to write down ideas about changes they feel could improve relationships, academic success, and the overall positive vibe in the classroom. Every month, pull out the box and sit in a circle. Discuss the ideas and put some of their plans into action.
Which is the best teaching strategy to be used in a classroom?
Inquiry-based instruction
Encouraging students to ask questions and investigate their own ideas helps improve their problem-solving skills as well as gain a deeper understanding of academic concepts. Both of which are important life skills.
---
External references
To know more about teachers strategies, please visit these blogs:
---
Related Articles
Award-winning math curriculum, FREE for a year
Get access to unlimited practice material, gamified puzzles and grade-wise worksheets
Learn More About Cuemath