August 11, 2020
Reading Time: 6 minutes
Children Learning — How Does a Child Learn?
Children's learning process begins at the very moment when they open their small tiny eyes for the first time to see this wonderful & beautiful world. At that moment they try to learn by the warmth of touch. The learning process of a child sees various changing processes from a newborn infant to a toddler, with further transformation again from preschool to school age.
Children start to learn the things mostly by observation, experimentation and by asking questions as per their stages of development and curiosity or interests. At the infant and toddler stage children learn by their senses. A toddler can observe things, explore it and can recognize it by touch. Child can feel the warmth of a known touch. Often at this stage even children try to communicate with their unrecognized word, as he always hears the words from their surroundings.
Children's observes the surrounding people and try to figure out whether the person or place is known or unknown to him/her. They always want to be in contact with the known touch and feel secure and confident. At the newborn and toddler stage of a child all these senses play a very important role for learning.
At the Preschool stage, children learn by their ability of reasoning and thinking. Learning process at this stage is different for different kids. Some kids learn fast by seeing, some by hearing, some by reading, while a few by doing stuff. At this stage parent's involvement is very necessary. As a parent you should be able to recognize your child's quick learning field. If you see, your child learns by listening, you can read story books, rhymes, and songs for him. If your child learns by sketching or drawing, you can draw with him.
At the preschool level, most of the kids have lots of energy and they always learn through playing. These children always want to learn something new by experimenting and by creating a wide range of materials with colors, clays, & toys, etc. Nowadays, many toy companies build their product considering this aspect of children. At this stage some children like to solve some puzzles or may be other problem solving activities. Reasoning and thinking capability developed during this stage, helps children to handle any tough situation in the future.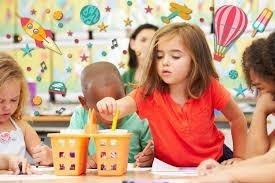 At the school age, a child tries to increase his social connectivity. He makes friends in school, and goes out to play with fellow classmates. At this stage of development, a child starts to do some task on his own. Also, they often start making little decisions. Child develops curiosity as well as doubt and always tries to ask a question to the elder one.
Parents play a vital role throughout the development of these stages. Parent's involvement and enjoyment both matters a lot for children. Parents are the first teacher of their child. So a parent's way of behaving counts a lot. Children learning development and the parent's role go closely together. The child feels motivated by what their parents do. It is only the parent's responsibility to provide a pleasant atmosphere at home, they always try to avoid discussing the family problems in the presence of kids. Sharing personal experience of learning is also a nice idea, to improve children's learning process.
Child's learning processes should not involve too much learning activity at home. Considering a child's learning process parents should take care about his/her physical as well mental health. Maintaining a good diet, good routine and physical activities all contribute to the overall learning development of a child.
Here are some important points we can consider for developing a child's learning abilities.
Focus on child's interest
Do not impose your interest on your child. Respect their interest even though you do not like it. Give them a chance to explore.
Give them responsibility
Give responsibility for work to your child. If your child wants to submit a project on any topic, just tell them to select the topic on their own. It allows children to control their learning process.
Be a good listener
Whenever your child tries to have a conversation with you, be a good listener. Try to listen their stupid things with curiosity and involvement.
Do not impose your thoughts on your child
As a parent you should not impose your thoughts on your kids. You should consider him as a different personality with different values
Encourage kids for different learning experiences
Do encourage your child for a different learning experience. Explore more learning resources for him.
Give importantance to participation
As a parent you should always give importance to participation instead of performance, which definitely leads to a better learning experience of your child.
It is totally okay to make mistakes. Kids with low self-confidence feel unsure of themselves. Self-belief helps them to try more and more new things.
Do not amplify child weakness
Always focus more on the child's strength instead of weakness. Child's self-confidence makes much difference in his learning capability.
Give emotional support to your child
They should feel assured about your love and support. Be always positive with them. Try to become a good friend with your child.
Teaching a child is also an art. The best way to teach kids is to enjoy everything with them. We should also become a child with them, while playing with them. If your child enjoys this thing, then he or she will definitely learn it fast. The teaching technique will differ for every child according to their stages of development. Children's learning process cannot be better without experiencing it. So instead of giving electronic gadgets to the kids for learning, if we participate in that activity, it will be real fun.
---
Conclusion
Practice, repetition, praise, and encouragement are key to increase the child's learning abilities.The learning processes start from knowing nothing to try to know everything. It is a never ending process. So learning would always be fun for everyone at every stage, starting from infant to college student. Child should enjoy every bit of learning no matter what the subject is. But always concentrate on his or her interest more. If the child enjoys the learning journey, the result will definitely be superior.
GIVE YOUR CHILD THE CUEMATH EDGE
Access Personalised Math learning through interactive worksheets, gamified concepts and grade-wise courses
Learn More About Cuemath
Math Tuition near me
Maths Tuition In Bangalore
Maths Tuition In Chennai
Maths Tuition In Hyderabad
Maths Tuition In Pune
Maths Tuition In Mumbai
Maths Tuition In Delhi
Maths Tuition Near You
Math Learning System
Math Topics
Math Games
Math Worksheets
Math Tips & Trics
Math Formula
NCERT Maths
JEE
FAQ
cuemath vs vedic math
cuemath vs montessori
is school math enough extra classes needed for math
cuemath how good is it
cuemath all children better at math
cuemath teacher math experts
Category
Exam Tips
Math & Beyond
Focus
About Cuemath
Math Puzzle
Motivation
Info
About Us
Work From Home Jobs
Math Teachers
Contact
FAQs