The Cuemath team celebrated Independence Day on 10th August 2016, by going ethnic.
Most of the men wore the traditional kurta-pyjama but the men who originally are from South India were daring enough to sport the mundu. The women on the other hand came dressed colourfully in sarees and gorgeous salwar suits.
The office looked festive and colourful and was decorated with orange, white and green balloons symbolising the tri-colour of the Indian flag. The team was already informed that there would be a prize for "the best dressed lady and gentleman".
No wonder everyone took efforts to look their best when compared to the casual days where jeans and t-shirts were the preference.
Chirutha and Ranjani took the onus of planning an activity for the entire team and surprised us all with their interesting challenge.
They divided the entire team of over 80, into smaller teams of 8-9 people. Each team was given a packet of 60 balloons, some tape and a pair of scissors. The challenge turned was to build the tallest "balloon tower". The teams were to build a tower using the balloons but without using the support of anything else like a wall, table etc. The tower was to stand steady and when a paper was placed on top of it, it had to stay on top and refrain from falling down.
The challenge lasted for roughly 10-15 minutes including 5 minutes for strategy planning. The winning team was none other than our CEO, Manan Khurma's team. They had the tallest, as well as the strongest tower because they concentrated on making a strong base and later focusing on the goal of building the tallest tower.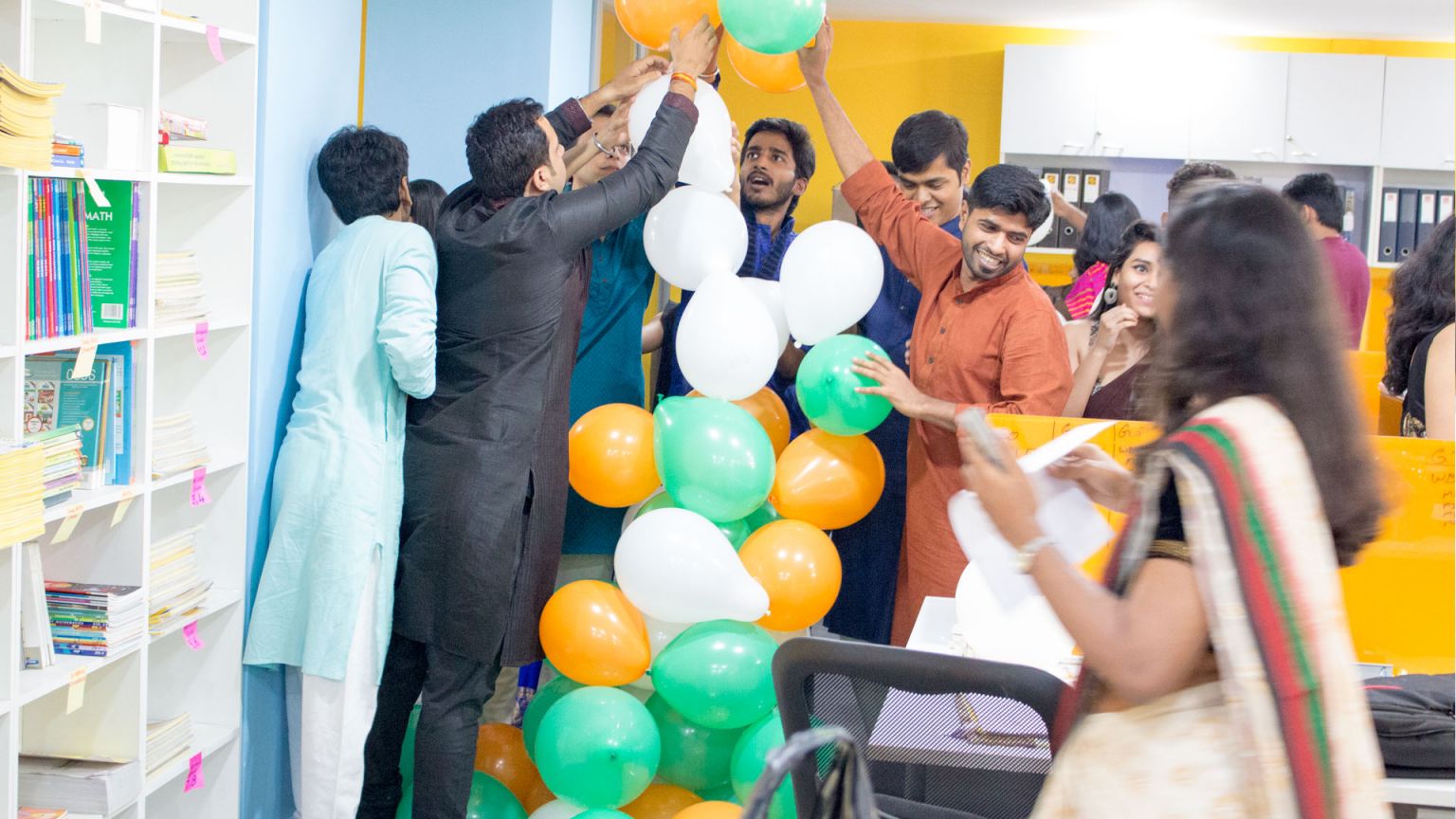 The best dressed award was given on the basis of votes. Sidhant Sharma, our Visual Communication Designer got the highest votes among the men.
Among the ladies, Reshmi Haobijam from the teacher acquisition team secured the highest number of votes.
While the entire office cheered on, the winners took a bow after receiving their prizes.
The team had lunch together and a lot of pictures were clicked. There was a feeling of fellowship among all of us as we spoke about our common goal which is bringing every child closer to falling in love with math.
The celebration lasted for a few hours, and we all got back to work in anticipation of the long weekend ahead.
Math Tuition near me
Maths Tuition In Bangalore
Maths Tuition In Chennai
Maths Tuition In Hyderabad
Maths Tuition In Pune
Maths Tuition In Mumbai
Maths Tuition In Delhi
Maths Tuition Near You
Math Learning System
Math Topics
Math Games
Math Worksheets
Math Tips & Trics
Math Formula
NCERT Maths
JEE
FAQ
cuemath vs vedic math
cuemath vs montessori
is school math enough extra classes needed for math
cuemath how good is it
cuemath all children better at math
cuemath teacher math experts
Category
Exam Tips
Math & Beyond
Focus
About Cuemath
Math Puzzle
Motivation
Info
About Us
Work From Home Jobs
Math Teachers
Contact
FAQs