Props and Games to use in math classes & More for Teachers
Props and Games to use in math classes & More for Teachers
May 26, 2017
Reading Time: 3 minutes
Most students don't look forward to math classes. Is it possible to put a finger on the reason for this?
A study led by Tesco found out why young adults were dropping technical subjects like math and physics in their senior years.
The results showed that experts and teachers who weren't able to guide students effectively were the root causes for this.
Teachers have the responsibility of introducing subjects to students and keeping them engrossed in it. There are two ways to do it, the traditional way- where students are made to memorize formulae and drills, or the modern way- which will ensure participation from students.
Here are a few Teaching aids for mathematics teachers you can use during your math classes that will make sure your students look forward to their next class with you.
In Class Props:
Making use of props during your class can help your students cope with the fatigue they face with regular classes. Students spend a lot of time with books during the day and the idea that they will get to do something different would ensure wholehearted participation from them.
Whiteboards- You can allot individual mini whiteboards to your students and give them interesting math exercises to work out in that space everyday. You could even encourage them to explain concepts to their peers.
Tabs- Students spend a lot of time playing games on tabs and smartphones and they love it don't they? Channelize this energy productively and get them to play "math" related games for a few minutes everyday. Cuemath Teachers allow their students to spend 10 minutes everyday on the Cuestudent app which builds their mental agility skills.
Visual worksheets- Forget numbers, give students something they enjoy, like pictures. Visual representation helps them get comfortable with conceptualization thereby doing away with cramming solutions.
Learning Aids:
The use of learning aids is slowly but steadily picking up because of the enthusiasm it brings. The method of touch-and-feel is very effective when it comes to learning. Using learning aids, students can actually "see" math using numbers, patterns and shapes. Cuemath Teachers are equipped with a Mathbox that consists of a number of such learning aids.
Here are a few that are available in the market.
Snap on cubes- These cute blocks are ideal for learning number concepts and exploring the squares and cubes of a number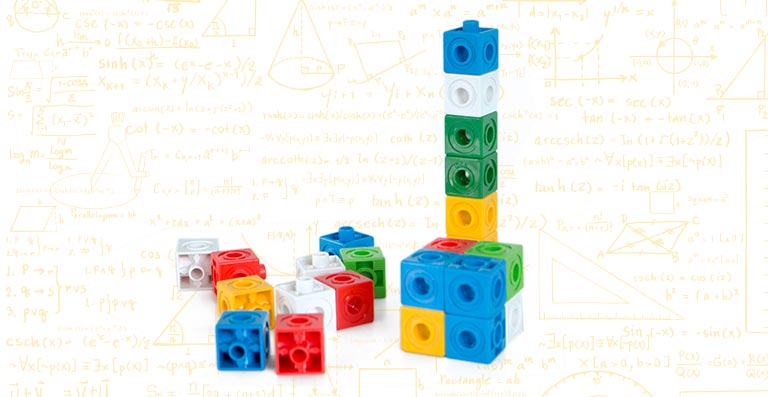 Tangram- Students get to build spatial coordination and get comfortable with geometrical figures using the pieces.
Fraction blocks- How to explain fractions easily? Use the fraction blocks. It helps students understand how a whole number can be broken down into multiple fractions.
Games & Challenges:
More often than not, "math" and "games" don't go together. Therefore, math games are a fun way of making students comfortable with the idea of using math in real life, beginning with board games.
Othello- A game designed to work extensively on pattern recognition. Stock market, weather, war, and a number of other real life situations are based on pattern recognition.
Monopoly- Children should be taught about tax, investment, property, etc., to help them in making intelligent decisions when it comes to investment. Schools do not really teach that but monopoly surely does, that too in a fun way.
Chess- A world-class game that teaches students how to strategize and create a clear winning path and improves concentration and decision making skills.
Outdoor Activities:
Math needs practice, like sports. Students can build and maintain a connection between math and the outside world when you introduce outdoor activities.
How can you do this?
Mini-projects: Make a list of math-topics which the students feel are unrelated to real-life problems and situations. Then work on it with them as projects to discover how they are relevant.
Take your class on a field trip to science museums or landmarks that best describe math and mathematicians.
Organize a treasure hunt using witty clues to crack interesting puzzles and find winners.
With so many resources available, planning your next class is going to be a piece of cake. Bear in mind that students come from different backgrounds and introducing them to multiple ways of learning will help them understand and discover math on their own.
Related Articles
GIVE YOUR CHILD THE CUEMATH EDGE
Access Personalised Math learning through interactive worksheets, gamified concepts and grade-wise courses
Learn More About Cuemath
Math Tuition near me
Maths Tuition In Bangalore
Maths Tuition In Chennai
Maths Tuition In Hyderabad
Maths Tuition In Pune
Maths Tuition In Mumbai
Maths Tuition In Delhi
Maths Tuition Near You
Math Learning System
Math Topics
Math Games
Math Worksheets
Math Tips & Trics
Math Formula
NCERT Maths
JEE
FAQ
cuemath vs vedic math
cuemath vs montessori
is school math enough extra classes needed for math
cuemath how good is it
cuemath all children better at math
cuemath teacher math experts
Category
Exam Tips
Math & Beyond
Focus
About Cuemath
Math Puzzle
Motivation
Info
About Us
Work From Home Jobs
Math Teachers
Contact
FAQs