THIS TEACHER WORKS FROM HOME AND LOVES HER JOB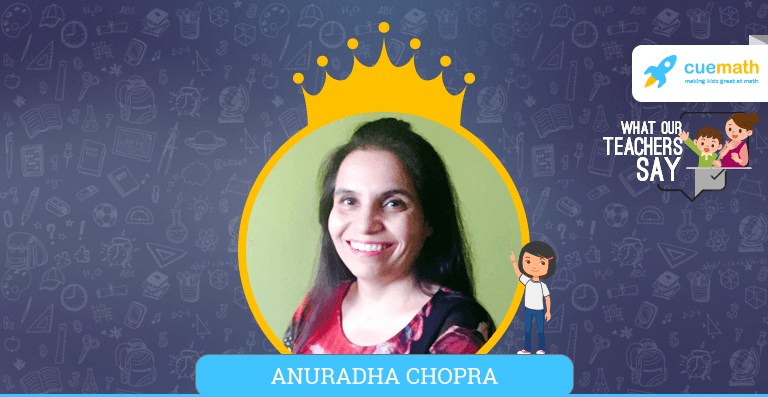 We don't meet many women who love sports and math, everyday. Anuradha Chopra's 30 odd students at her Cuemath classes are lucky that way. They have a teacher who probably prompts them with "On your mark, get set & go" before every session!
An energetic lady who graduated from Delhi University and thereafter pursued her passion which was Interior Designing, Anuradha claimed that sitting idle was not something she could do.
"I was in an age where I could perform my best professionally. So I was very much involved in my work!"
After working for a couple of years in her family business, she got married and had children. Then she decided she wanted to change her priorities.
"Although I had an excellent job, after having my children, I wanted to spend every minute with them. I was not ready to give that up for anything else in the world."
Since she couldn't devote enough time for a main stream job, Anuradha quit and became a dedicated mother to her children. However, she couldn't stay put for long. She began taking math classes for the children around.
"Then one day, my child's teacher called me to say that all parents need to deliver a guest lecture at school. It was part of the school's policy."
After preparing for this session for a couple of days, Anuradha went and gave a fitting class to the students.
"That's when I realised I can actually teach well"
Anuradha looked no further, she went ahead and signed up for the Cambridge Teacher Training course after which she worked as a teacher in the school. For a while she enjoyed teaching her students.
"After sometime, I felt that there was nothing for me in this. No time for myself, even my weekends had to be sacrificed for work"
Anuradha explains that she wanted to work flexibly with a deserving income and that's how she found Cuemath while browsing through Facebook.
"The fact that the program was designed by graduates from IIT, IIM and other prime international universities, I knew it was something with a big brain behind it. So I was totally confident and signed up."
So what does she think now? Was it the right decision?
"Are you really asking me that? Who would pay you so much to work for 3-4 hours a day? All the parents treat me really well and hold me high in the society."
According to her, the children enjoy the mental aptitude and creative reasoning which helps them with real time problems. She gets elated when she sees the children creating their own questions and says that this shows a good inclination to learn.
"My students who are in higher classes told me that they used to hate math as a subject. But today, they've gone from average to excellent and their IQ level has also increased."
Anuradha gives us an example of her own daughter who is in class 4 and attends Cuemath classes. When they were in Singapore, she had asked her mother about the currency difference and once she got an idea, she converted the expenses in different places alone.
"The same happened with the time zones, once I explained why we were in a different time, she kept looking at the clock and figuring out the time back in India and told me 'mummy, so once we're back in India, we'll be gaining on time right?' I felt so happy that she could do that on her own"
So what is Cuemath to this wonderful teacher?
"Well, one and a half years down the line, I think Cuemath is a great program and the kids are happy, therefore so am I. Name, fame, money, and recognition are other perks of it."
Anuradha explains that as a parent, Cuemath should be the first choice for their children. She says that in schools, teachers teach around 35-40 children for 35 minutes a day.
"They can allot only a limited time for a topic. Here individual attention is given and time is taken for a topic. This builds a strong foundation."
Any final thoughts?
"Well, I wish I had Cuemath in my childhood. It would've been fun!"
So do we ma'am.
If you want to work from home and earn by teaching math, join us today and make an impact.
Related Articles
GIVE YOUR CHILD THE CUEMATH EDGE
Access Personalised Math learning through interactive worksheets, gamified concepts and grade-wise courses
Learn More About Cuemath
Math Tuition near me
Maths Tuition In Bangalore
Maths Tuition In Chennai
Maths Tuition In Hyderabad
Maths Tuition In Pune
Maths Tuition In Mumbai
Maths Tuition In Delhi
Maths Tuition Near You
Math Learning System
Math Topics
Math Games
Math Worksheets
Math Tips & Trics
Math Formula
NCERT Maths
JEE
FAQ
cuemath vs vedic math
cuemath vs montessori
is school math enough extra classes needed for math
cuemath how good is it
cuemath all children better at math
cuemath teacher math experts
Category
Exam Tips
Math & Beyond
Focus
About Cuemath
Math Puzzle
Motivation
Info
About Us
Work From Home Jobs
Math Teachers
Contact
FAQs