November 25, 2020
Reading Time: 5 minutes
Introduction
We always tell our kiddos that sharing is caring. So, what's better than dedicating a day to this kind of act of giving and donating?
Thanksgiving is one of the most important celebrations across religions, races, and borders that keep people united. It instils values of love, sharing, and appreciating in kids.
Celebrated on the fourth Thursday of November, Thanksgiving puts aside all the differences and unites people.
If you are constantly working on making your child more appreciative and improving his or her social skills, this is a great day to make kids grateful.
It is the best time of the year when families and neighbours unite to talk about their lives and practice their cultures. Children learn the importance of spending quality time with the family and most importantly, preparing to give out love in the form of their creativity and imagination.
Want to make Thanksgiving fun yet meaningful for your little ones? Looking for thanksgiving crafts for kids to help them learn how to be appreciative and express gratitude?
Browse through our top ten easy thanksgiving paint crafts to keep your kids busy while you prepare for the family feast!
DIY Fun And Creative Thanksgiving Crafts For Kids-PDF
Keep your little one busy in this year's thanksgiving with DIY thanksgiving crafts. There are many simple crafts that kids can do. In this blog, let's see the ten fun and creative Thanksgiving craft. Here is a downloadable PDF to explore more.
| | | |
| --- | --- | --- |
| 📥 | DIY Fun And Creative Thanksgiving Crafts For Kids-PDF | |
---
10 DIY Thanksgiving Crafts for Kids to Keep Them Engaged
You don't need to live somewhere geographically or belong to a particular group of ethnicity or religion to celebrate Thanksgiving.
Americans and Europeans are adopting Indian festivals like Rakshabandhan to instil values of love and protection amongst siblings. Then, why can't we adopt this meaningful day to teach our kids important life lessons?
If you are also inspired by this valuable day, here are some of the best thanksgiving crafts for kids that you must involve your children in.

1. Origami Turkey
The centrepiece of Thanksgiving dinner, origami Turkey is one of the easiest thanksgiving paint crafts for kids. With some folds and flips, your kids can make origami Turkey quickly. Allow them to showcase their innovation by using papers of different colours and sizes.
2. Handprint Art Turkey
Ask your kids to stamp their tiny chubby hands on a piece of paper. Help them outline it to make it look like feathers. Assist them in drawing a turkey with a curved head and neck, googly eyes, and ask them to show their creativity.
This is a fun and easy thanksgiving art for toddlers that you can get them busy with for hours.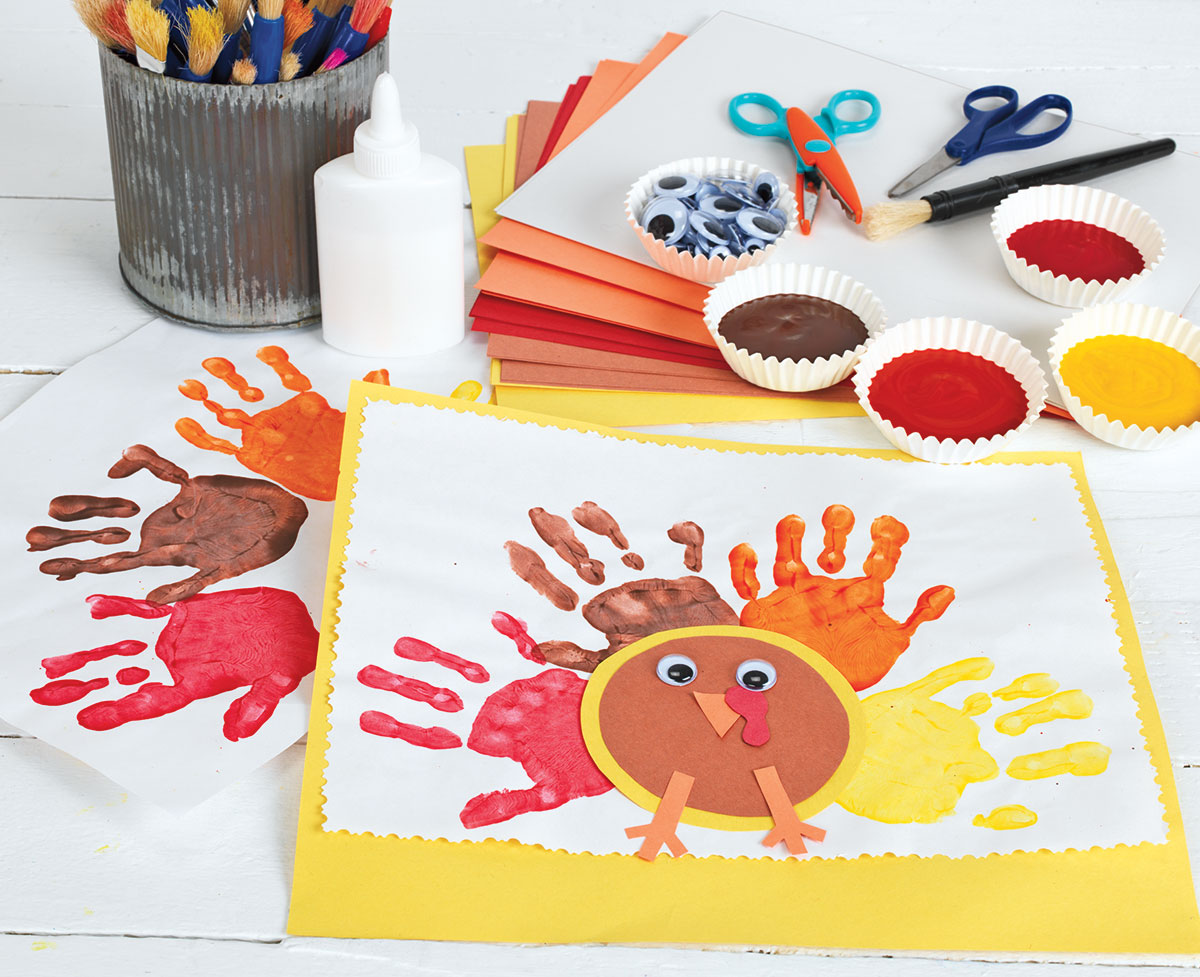 3. Gratitude Jar
This is one of the best thanksgiving crafts for middle school children as it is more thoughtful. Give your child a mason jar and some slips of paper. Ask them to think deeply and write all the things they are grateful for. This activity cultivates the habit of thanking God and being mindful of all the blessings they have in life.
4. Paper Cards
If you are looking for cute thanksgiving crafts for middle school kids, ask them to draw cards for their siblings. Help them be creative using autumn leaves, fall colours, and pumpkin stickers.
5. Pumpkin Shaped Pizza
If your child is a little older and you are looking for easy thanksgiving crafts for first graders, how about decorating a pizza with them? Get some pizza bases home or if you enjoy kneading and rolling the dough – then why not?
Top the pizza with orange coloured pizza sauce, add shredded Cheddar cheese, and decorate with some fresh basil leaves and pepperoni slices to make it look like a carved pumpkin.
6. Paper Lanterns
Not to be forgotten, paper lanterns are also super easy thanksgiving crafts for kids. You can keep your kids busy by making pumpkin shaped Thanksgiving Paper Lanterns or Turkeys by adding some facial features and feathers.
7. Face Masks
Since masks have taken over all of us, how can we forget them while making easy thanksgiving crafts for first graders? One of the easiest ways to make your children more creative is to let them play with felt.
Help them cut, fold, paste, and glue to come up with some interesting Thanksgiving-themed face masks.
8. Clay Modeling
We recommend bringing home some clay dough if you want to find some thanksgiving art projects for kindergarten. Clay modelling not just helps improve hand-eye coordination but also nurtures their imagination and creativity.
Ask your kindergarteners to design their pumpkins and turkeys using different colours and features.
Clay modelling is a good thanksgiving art for toddlers too. You can simply ask them to roll the dough and make basic shapes like spheres, ovals, etc. This helps foster their ability to focus and learn movements like pushing, squeezing, and squishing.
9. Paper Quilling Owls & Turkeys
Paper quilling has to be undoubtedly our other favorite pick for thanksgiving art projects for kindergarten. While it may be a little difficult for kids to perfect initially, they would love to learn and practice it.
Mark our words - paper quilling can keep them engaged for weeks and months. So, if you are looking for beautiful thanksgiving crafts for kids, give some time to your little ones and help them learn how to craft basic shapes to compile them into a Turkey or Owl.
10. Princess Crown & Tiara
If you are specifically looking for some crafts for the girls in the house, you must try making cardboard crowns and tiaras with your delicate darlings.
Not only would they cherish their paper crafts but will also be more and more innovative with their creations.
---
Conclusion
We know you are as excited as us to try out fun Thanksgiving crafts at home. Which of these crafts intrigues you the most? Are you more interested in paper crafts or practical crafts? If your child is 5+ you can also check an interesting article on diamond painting and diamond painting accessories. It can really be a fun DIY session.
No matter what activity you choose, all that matters at the end is the creativity and enjoyment that it brings. Wishing you a Safe & Happy Thanksgiving 2020!
Cuemath comes up with regular articles for parents and kids to address different topics. Our suggestions and recommendations are provided after extensive research and have helped a number of readers. Comment in the box below to let us know more about your needs and requirements.
---
About Cuemath
Cuemath, student-friendly mathematics and coding platform, conducts regular Online Live Classes for academics and skill-development, and their Mental Math App, on both iOS and Android, is a one-stop solution for kids to develop multiple skills.
Check out the fee structure for all grades and book a trial class today!
---
Frequently Asked Questions (FAQs)
1. Are there any Thanksgiving crafts for toddlers age 2?
Yes. There is an array of crafting options if you are looking for Thanksgiving crafts for toddlers age 2. You can get them stamping their hands on papers or play with modelling clay. You can also make crowns, paper lanterns, and masks for them and keep them engaged by helping you pick the objects you ask for.
2. How can I make Thanksgiving fun for my kids?
To make Thanksgiving fun and special for your kids, you can keep them busy with fun crafts such as baking, clay modeling, drawing, etc.
3. What are some Thanksgiving crafts that parents can make with kids?
It is best to be involved in your child's academics and crafts to help them build positive self-esteem and appreciate their creations. Some craft ideas that you can do with your kids are:
Making face masks
Baking and decorating a pizza
Paper quilling
4. Why is Turkey the most important creation in Thanksgiving crafts?
While nobody knows the real reasons how Turkey earned a place of honour at the dining table on Thanksgiving, it has been served as the main meal for decades. This popularity has now made Turkey a "theme" for Thanksgiving decorations, crafts, and more.
---
---
Award-winning math curriculum, FREE for a year
Get access to unlimited practice material, gamified puzzles and grade-wise worksheets
Learn More About Cuemath