Top Coding Careers in Computer Science
Top Coding Careers in Computer Science
Computer Science education has seen a significant growth in the past decade worldwide. In 2019, the US saw a growth of 8.11% in the number of computer science graduates. According to the U.S. Department of Labor Bureau of Labor Statistics, 6 of the 10 occupations in the country with the newest jobs are in the field of computer science, as the careers in computer science are among the most in-demand, lucrative, and stable options for college graduates. It is a rapidly growing discipline with applications in a wide range of industries.
Computer Science has always been at the forefront of new inventions and discoveries since the dawn of the digital revolution. From the first programmable computer(ENIAC), which performed 357 10 - by - 10 digit multiplications per second, to modern-day super-computers that perform millions of calculations per second, all was made possible through computer science and by computer scientists.
From the inception of the internet and personal computers, the world has shifted to a digital age. With 62% and 59% of the world population having access to mobile phones and the internet, companies and businesses all around the globe are investing heavily in software technologies. The Bureau of Labor Statistics (BLS) estimates that jobs for computer and information technology occupations will grow significantly between 2019 and 2029 at a rate of 11%. This is significant than the projected growth rate for all occupations worldwide.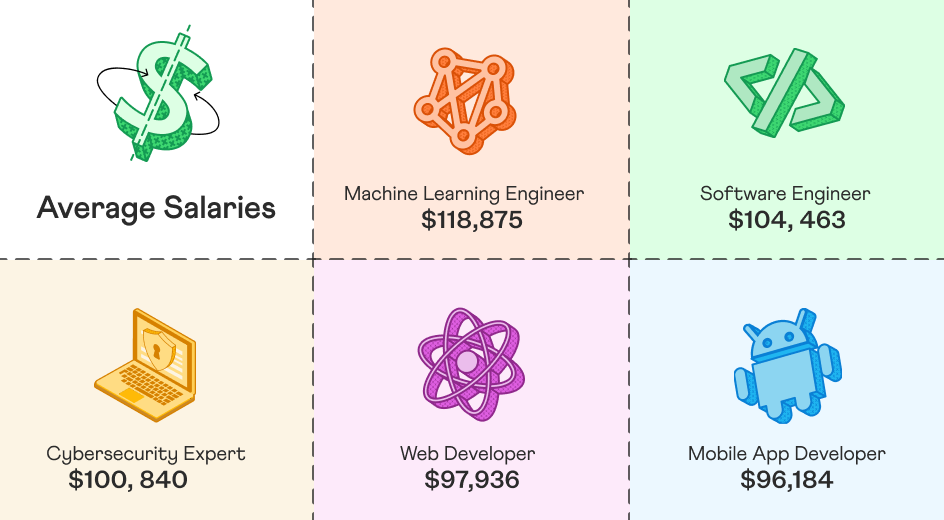 LinkedIn, one of the most popular jobs seeking /networking services, predicts that some of the most in-demand jobs of the future will be full-stack developer, web developer, game developer and data scientist among others, drawing an average salary of $100,000.
Thus, we at Cuemath strive to make your child future-ready by helping them master the basics of programming along with the most in-demand programming languages like JavaScript and Python delivered by a well-qualified teachers, through well-researched curriculum designed by experts and a highly interactive and proprietary platform.
Let us look at the diverse and fascinating career options one can pursue with computer science and programming knowledge.
Full Stack Web Developer
Websites are an integral part of the digital age and full-stack developers play a crucial role in building them out. A full-stack developer is well-versed in both front-end(how websites look and feel) and back-end development(the website's inner workings like interacting with databases).The majority of the websites including Google's search engine, Youtube and Facebook are developed using web development technologies like HTML, CSS and Javascript. Job openings for full-stack web developers are estimated to grow 13% by 2026 which is faster than the average rate of any other occupation.
Skills Required: HTML, CSS, Javascript, any backend language (PHP, Java, Node.JS)
Average Salary: $97,936
Mobile Application Developer
With the majority of the world population having access to smartphones and the internet alongwith the advent of new smartphone technologies, the need for skilled mobile app developers will continue to grow. With over 2 million applications available in Apple's App Store and Google's Play Store including widely used apps like Uber, Facebook and Instagram, mobile application developers are a major contributor to the ever-growing digital economy. A mobile application developer has to work in tandem with the product and design teams to understand user requirements and create technical solutions for the same. Mobile application developer jobs are expected to grow by 19% in the coming years.
Skills Required: Java/Kotlin (for Android apps), Swift (for iOS apps), UI Design
Average Salary: $96,184
Software Engineer
Often computer scientists simply work under the title of a software engineer. They perform a plethora of tasks ranging from developing custom operating systems and softwares to programming robots for performing backflips. SpaceX hires ace software engineers to program the onboard computers on the Falcon 9 rocket. Tesla's software engineers made autonomous vehicles a reality by developing powerful onboard computers to predict real-life situations. Software engineers are also responsible for the backbone of a company's digital infrastructure. They also test and debug applications, working closely with cross-functional teams.
Skills Required: Java, C++, Python, Ruby
Average Salary: $104, 463
Cybersecurity Expert
Cybersecurity is the practice of protecting computer systems, networks, programs, and mobile devices from unauthorized access or digital attacks. Cyberattacks rank among the fastest-growing crimes, fueling a global demand for cybersecurity skills.From protecting banking transactions to safekeeping user data, cybersecurity experts contribute largely to the digital freedom that many of us enjoy.
Skills/Certifications Required: Understanding of computer systems and networks, Certified Information Systems Security Professional (CISSP)
Average Salary: $100, 840
Machine Learning/ Artificial Engineer
From finding the nearest delivery executive to deliver your food, building self-driving cars and Instagram filters, machine learning and artificial intelligence is used almost everywhere. Machine Learning experts should be well versed in data structures and algorithms, in building neural networks and in structuring the machine learning projects by applying probabilistic graphical models. Globally, machine learning jobs are projected to be worth almost $31 billion by 2024. That's an annual growth rate of more than 40% over 6 years.
Skills Required: R Programming, Python, SQL, Probability & Statistics
Average Salary: $118,875
With the promising future of computer science and the lucrative career options listed above, programming has become an important skill across many disciplines.
Thus, at Cuemath we believe that learning to code at an early age is crucial. Cuemath provides live 1:1 Live Online Coding classes and Math classes. Cuemath's coding curriculum is world-class providing a unique blend between the basics of programming and real-life projects with the help of current computer technologies helping students achieve mastery. Book a demo and get in touch with our academic counsellor to get the best course for your child.
---
-By Rohit Roy
Rohit is an enthusiastic coder, designer, and educator working as a Project Lead for the Coding curriculum for Grades 4 - 6 at Cuemath. He believes that learning to code can turn kids into better problem solvers and thinkers. In his spare time, being a foodie at heart, Rohit loves to cook and also play tunes on his guitar.
Share
Award winning math
curriculum
Award-winning math curriculum, FREE for a year
Get access to unlimited practice material, gamified puzzles and grade-wise worksheets
Learn More About Cuemath