What is the GCF of 20 and 35?
Greatest Common Factor is a greatest number that is a factor of two or more other numbers.
Answer: GCF of 20 and 35 is 5
Explanation:
LEt us use 2 different methods to find GCF of 20 and 35.
GCF of 20 and 35 by Prime Factorization 
GCF is the product of the factors that are common to each of the given numbers.
Prime factorization of 20 is 2 × 2 × 5
Prime factorization of 35 is 5 × 7
common prime factors of 20 and 35 is 5
Hence GCF(20, 35) = 5
GCF of 20 and 35 by Long Division
Step 1: Divide the larger number by the smaller
Step 2: Divide the dividend by the remainder obtained in step 1 and repeat this step until we get the remainder as 0
Step 3: The last dividend is the GCF of the two numbers
We take the larger value 35 as dividend and smaller value 20 as divisor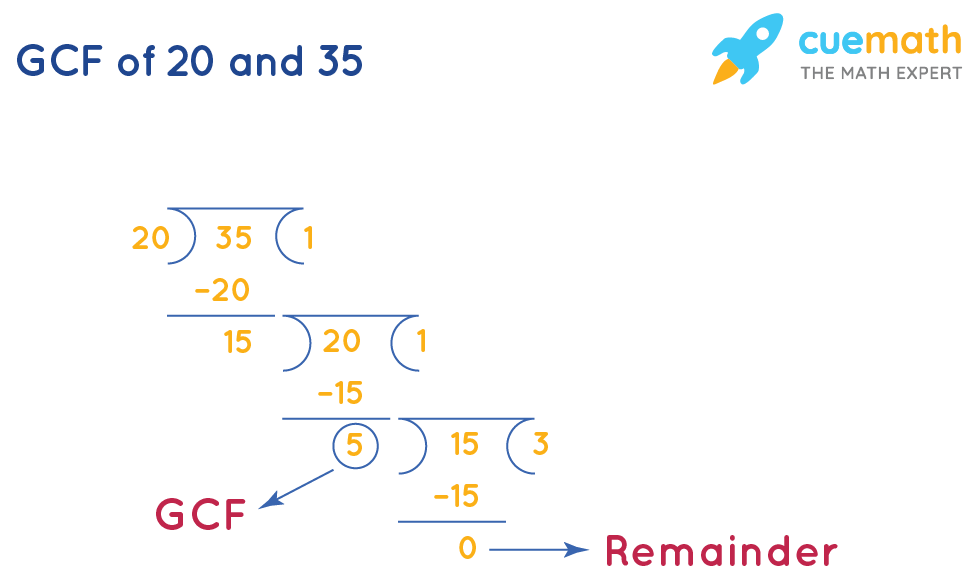 We will get the GCF same for the given numbers by using different methods.
Thus, GCF of 20 and 35 is 5