10 Daily Routine for Students Going to School
4 Jan 2021
Reading Time: 6 minutes
Introduction
A healthy daily routine for students will help them achieve academic goals and targets easily. This is because overnight studies hamper memory and concentration as compared to daily studies. We will share daily routine examples for students and help you build a routine for your child.
A repetitive cycle of events every morning will ensure discipline and avoid distractions. It is important to have a healthy daily routine for students to keep acute and chronic ailments at bay and prevent a visit to the doctor. The daily routine of a school student should be balanced with health and academic goals which comprises various tasks and activities that are performed in the same order throughout the day.
Downloadable PDF
If you ever want to read it again as many times as you want, here is a downloadable PDF to explore more.
| | | |
| --- | --- | --- |
| 📥 | 10 Daily Routine for Students Going to School | |
---
Daily Routine for Students
Wake up Early in the morning
Set an alarm and ask your child to wake up early in the morning. We recommend waking up at 5 am to help your child plan his or her day well in advance. Many successful entrepreneurs abide by this habit to enhance their productivity. Let us look at the benefits of waking up early for your child.
Children will not feel drowsy during morning classes or lectures.

Focus and concentration will gradually improve.

Boost your kid's overall health and fitness.
Exercise daily in the morning
After waking up in the morning, ask your child to perform exercises to increase energy levels. Go for a morning walk to experience similar benefits if your child does not like exercising. Yoga is an excellent alternative to improve energy level and flexibility in kids. Have a look at the benefits of morning exercise.
Aids motor skill development which is integral for any sports activity.

Helps in digestion and increases metabolism in kids

The overall temperament of your child will improve.
Revise chapters before going to school
Academic activities play a major role in the daily routine for students. Kids need to check their school timetable and go through the lessons which are about to be taught in the class. This preparative step will help your child understand the lessons and subjects being taught in the class. Let us have a look at some of the benefits.
Doubts will be easily resolved.

Complex concepts will be easier to grasp in the class

Academic performance will improve drastically.
Have a healthy breakfast, lunch, and dinner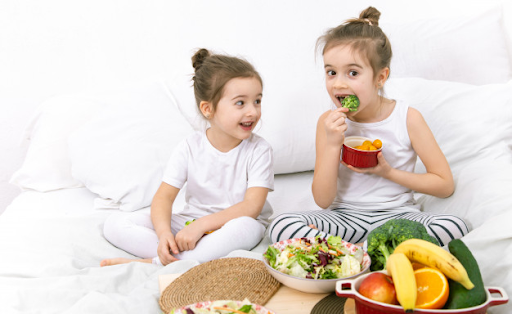 Kids need to maintain a balanced diet to aid overall developmental processes. We urge parents to provide nutritious meals with green vegetables to avoid malnutrition in kids. Avoid junk food items like potato chips, wafers, etc. to maintain a healthy daily routine for students. You can go through the benefits of healthy food items for kids listed below.
Supports immunity and brain development in kids

Reduces lethargy and promotes an active lifestyle

Helps avoid chronic developmental health issues in kids
Study maths multiplication tables every day
Multiplication is a basic maths operation and kids need to remember multiplication tables to get good scores in their examinations. Parents need to help their children learn multiplication tables from 1-10 for developing maths foundation. We recommend teaching multiplication tables until 20 for good maths performance in class. Let us look at the benefits of learning multiplication tables every day.
Improves accuracy of solving maths problems

Everyday practice helps to retain multiplication tables

Increases the speed of math calculations in kids
Complete homework on time
Kids need to complete their homework on time to get good grades from teachers in their schools. We urge parents to make sure their kid is completing homework on time on a daily basis. Homework needs to be a daily routine for students to help them achieve good grades in school. Have a look at the benefits of completing homework on time.
Inculcates discipline and punctuality in kids

Helps to get better grades in school

Enhances understanding of the subject-matter
Make a chart of math identities
Ask your kid to write down all the maths identities being taught to him or her. This will help your child retain math identities and improve their understanding. You can also ask them to go through the proof of each identity to help your child apply these identities. Let us have a look at a few benefits.
Retention of math identities

Children learn how to apply math identities

Improves problem-solving ability in children
Keep room clean
Tell your kids to clean their rooms every day and organize their belongings. Help them get started and then try to turn it into a habit. Kids need to arrange their clothes, books, and toys in place to keep their room clean. Have a look at the benefits of cleaning a room every day.
Improves confidence and self-esteem in kids

Enhances concentration and focus in children

Increases productivity and uplifts mood
Maths exercise on Cuemath
Cuemath is a maths platform for kids where they can practice application based maths problems along with math puzzles, simulations, and games. Ask your child to engage with Cuemath activities to help ace mathematics and understand the fundamental logic behind every concept. Let us look at the benefits of Maths exercise on Cuemath.
Customized content to address your child's requirements to improve academic performance

Interactive application based maths problems to improve problem-solving ability.

Teaches time management for math exams
Go to bed early
A daily routine for school students requires kids to go to bed early in order to wake up early in the morning. This is important because children need adequate sleep for overall development. Ask your kids to avoid overnight studies and let them study early in the morning. Try to calm down your kids before an examination to help them sleep on time. Have a look at the benefits of sleeping early at night.
Improves the quality of sleep in kids

Aids thinking abilities in children

Reduces anxiety and stress levels
---
Conclusion
Kids need to follow a daily routine for students which suits their requirements. The routine presented in this article will help you improve the overall academic performance of your child. This is a daily routine example for students which can be modified as per the specific requirements of a child.
Comment below if you have any questions or queries related to daily routines for students.
5 tips to keep ur child to stick to the daily routine
1. Let your child help make the routine.
2. Be realistic about time and priorities.
3. Be clear when you explain the routine.
4. Put the routine in writing.
5. Know that kids need support to learn routines.
---
About Cuemath
Cuemath, a student-friendly mathematics platform, conducts regular Online Classes for academics and skill-development, and their Mental Math App, on both iOS and Android, is a one-stop solution for kids to develop multiple skills. Understand the Cuemath Fee structure and sign up for a free trial.
---
Frequently Asked Questions (FAQs)
How important is routine for a child?
A routine helps your child understand the balance between enjoyable tasks such as play and functional tasks such as brushing their teeth. Stress reduction. When a child has a predictable daily routine, it reminds them that they are in a secure, loving environment.
Why having a daily routine is important?
Your daily routine influences your quality of rest. Your sleep schedule and bedtime habits affect your mental sharpness, performance, emotional well-being and energy level. It's best if you can maintain a consistent time for waking and going to bed. Better health is a result of just a little extra planning.
---