Learn
Ncert All Solutions
from a handpicked tutor in
LIVE 1-to-1
classes
NCERT Solutions Class 12 Maths Chapter 7 Exercise 7.7 Integrals
NCERT Solutions for Class 12 Maths Chapter 7 exercise 7.7 Integrals comprises questions that require an understanding of integrals of a particular type. This section talks about some special types of standard integrals based on the technique of integration by parts. Exercise 7.7 of NCERT solutions Class 12 maths Chapter 7 consists of 11 questions based on these integrals. Out of the 11 questions, 9 are long answer types for which calculations are required and the rest of the two are MCQs. Kids must have a complete understanding of how to derive the result of these standard functions as well as memorize the answer. If students understand the derivation they will never get stuck in any exam if they fail to recall the formula.
To find integrals of a certain type of function, the tool is to take the constant function 1 as the second function and then apply the integration by parts method to bring it in a form that is easier to integrate. For example, the integration of ∫√x2-a2 dx can be performed by taking the constant function as 1. More details of this topic can be found in the pdf file of the Class 12 maths NCERT solutions Chapter 7 exercise 7.7 Integrals given below:
☛ Download NCERT Solutions Class 12 Maths Chapter 7 Exercise 7.7
Exercise 7.7 Class 12 Chapter 7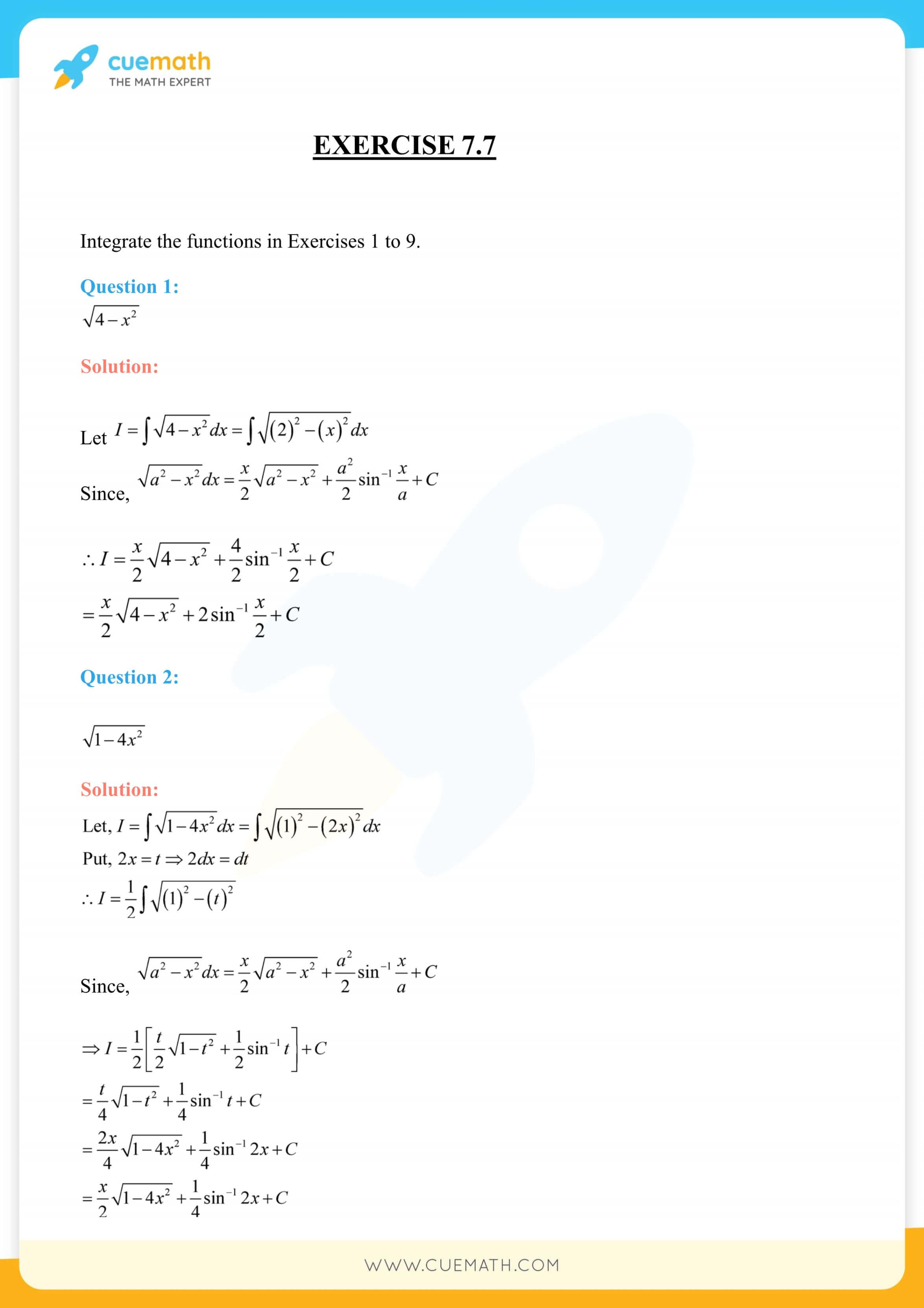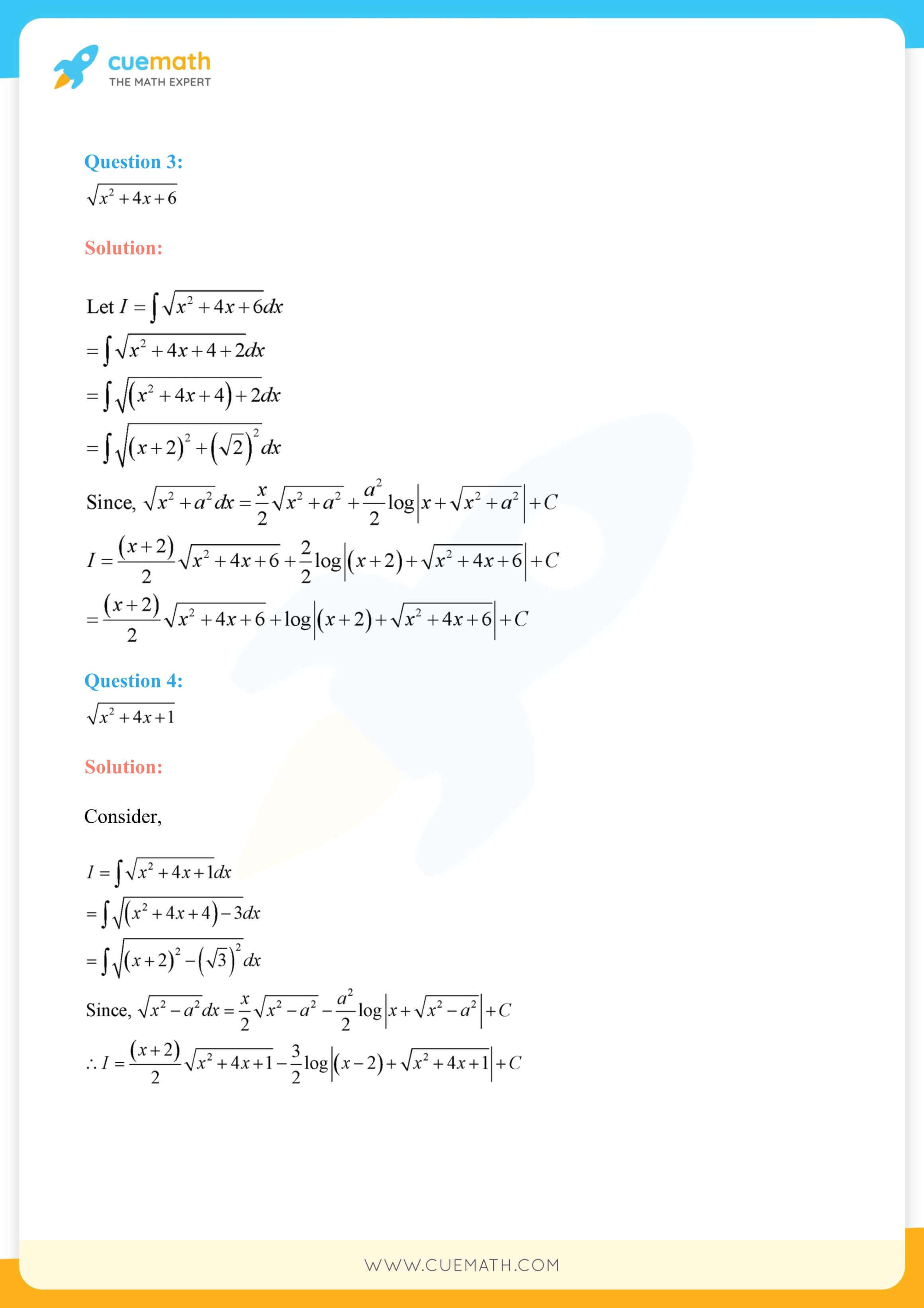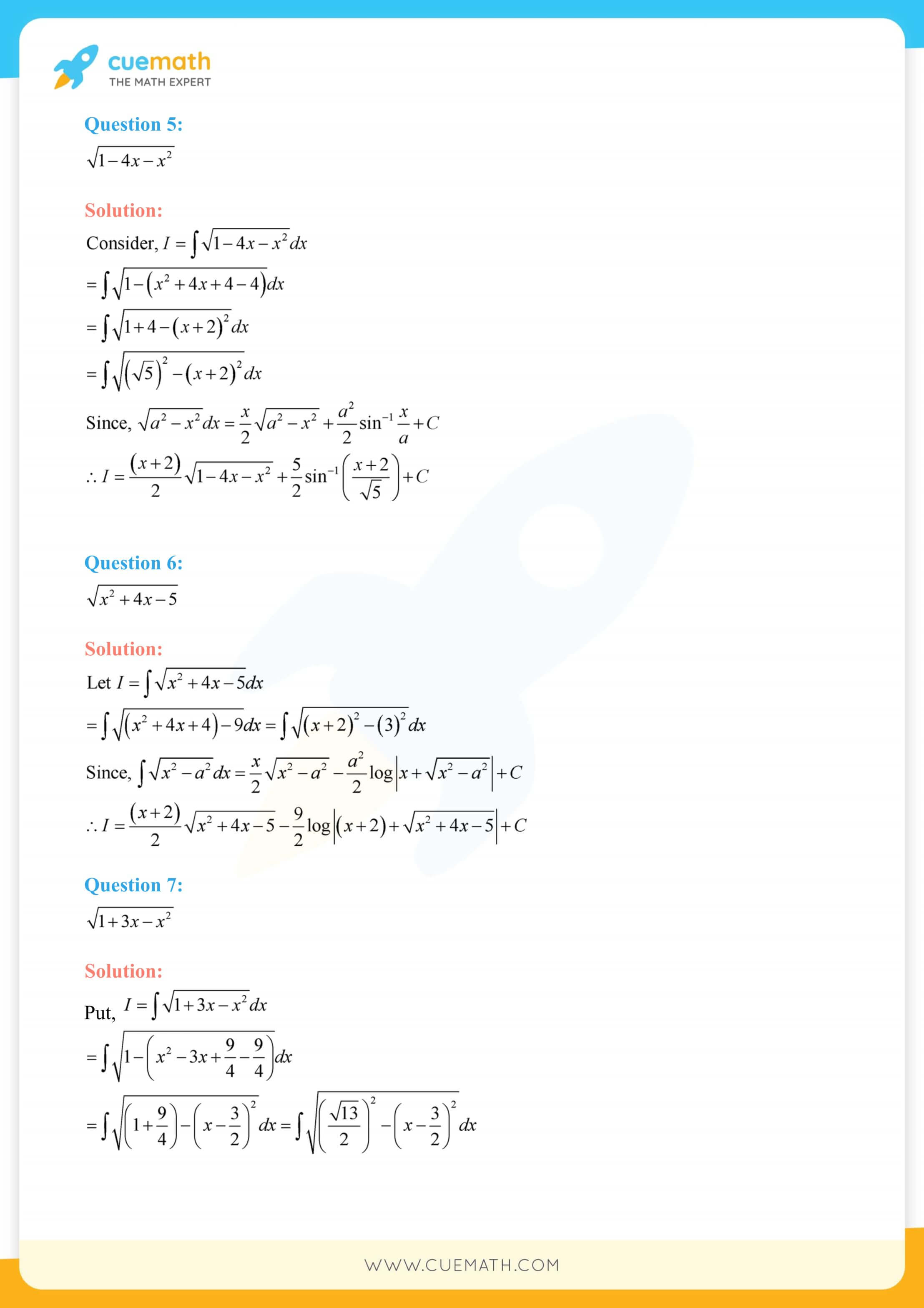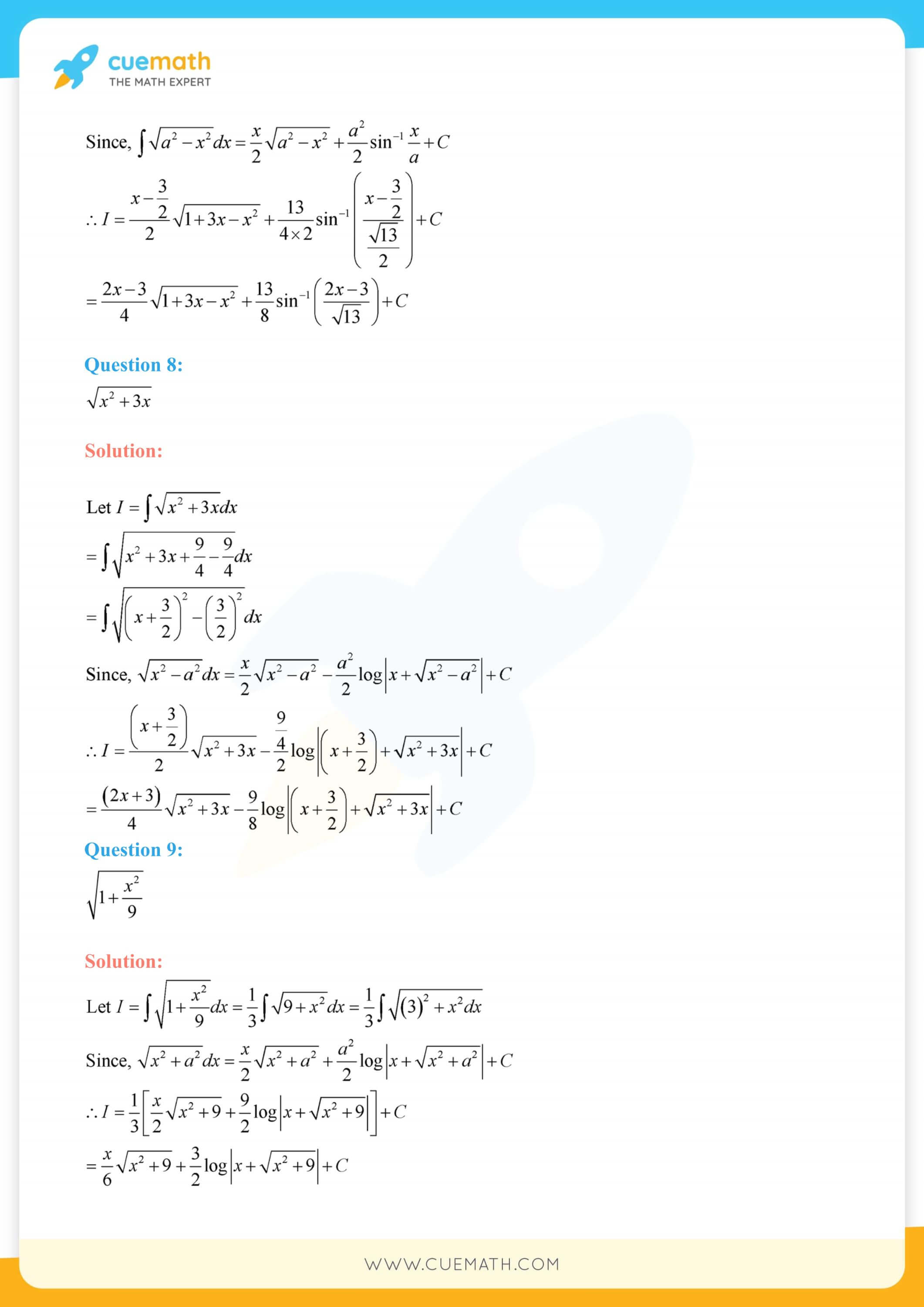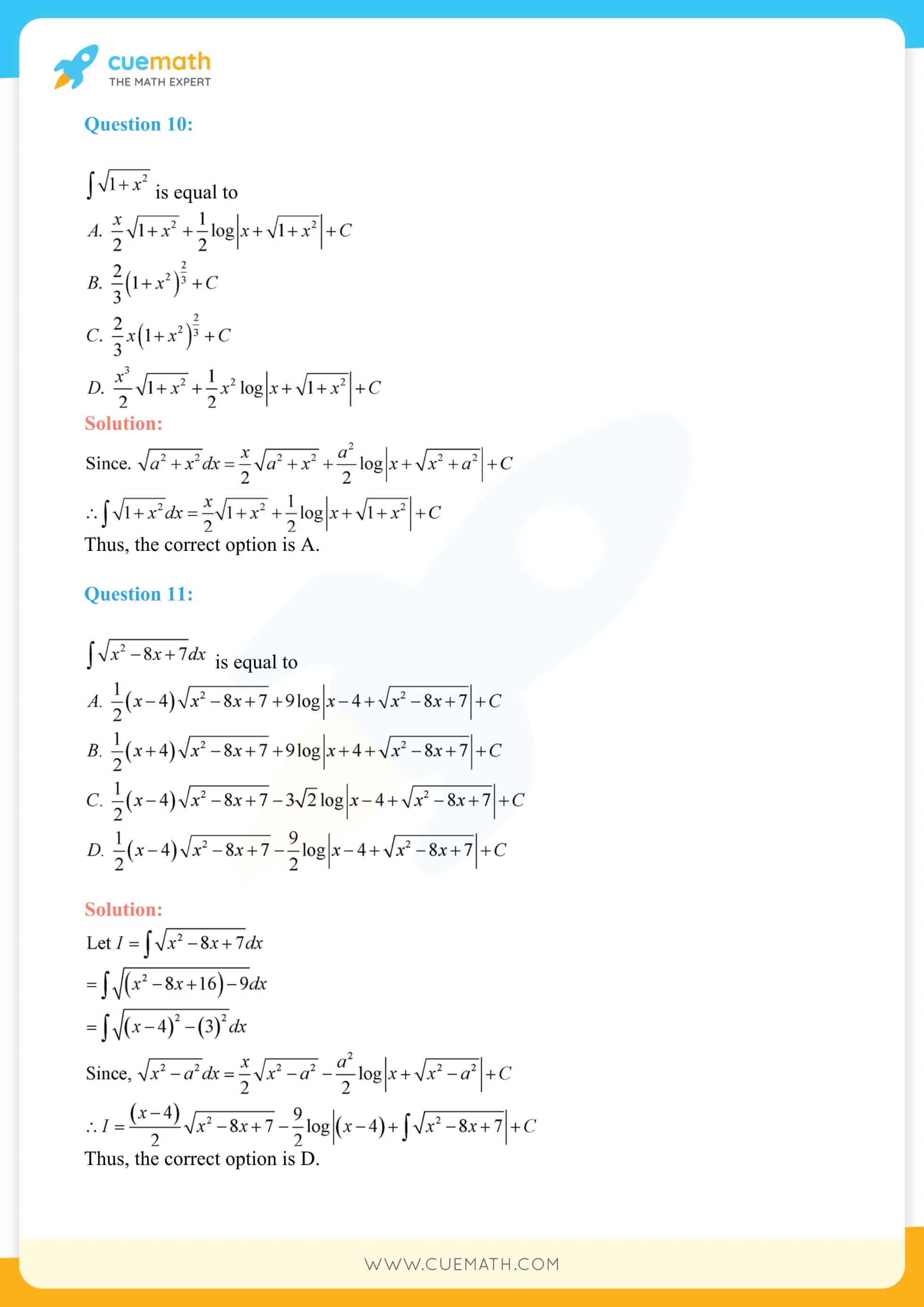 More Exercises in Class 12 Maths Chapter 7
NCERT Solutions Class 12 Maths Chapter 7 Exercise 7.7 Tips
NCERT solutions Class 12 maths Chapter 7 will guide students to use the simplest way in which a particular type of function can be integrated. Solving these particular forms of integrals and applying the integration by part method requires a fundamental understanding of rules related to it as well as a good hold of the previous exercise.
Students should carefully follow the solution steps to solve these Integrals of special functions. Applying these steps meticulously with proper care will reduce the scope of making mistakes. Thus, by solving multiple questions in the exercise, students will develop the skills and ability to bring the functions to an easy-to-integrate form.
Download Cuemath NCERT Solutions PDF for free and start learning!
Math worksheets and
visual curriculum