Parallel lines
Two or more lines that lie in the same plane and never intersect or meet each other are known as parallel lines. For example, let us assume two tall buildings in a neighborhood. They seem so tall and straight. But will they ever meet? The answer to such questions lies with the concepts of parallel lines. Let's go through the article for more clarity.
What are Parallel Lines?
Parallel lines never cut (intersect) or meet each other, and they lie on the same plane, they need not be straight. For example, look at the image given here. These sets of lines are parallel to each other. This means that the given lines will never meet each other no matter how long we extend them.
Parallel Lines Angle
When parallel lines (L1 and L2) are intersected by another line (which is called a transversal), many angles are formed which are equal. These pairs of equal angles thus formed have special names. Eight separate angles have been formed by the two parallel lines and a transversal. Each angle has been labeled using alphabets.
Given below are the angles and the angle pairs formed by the two parallel lines L1 and L2.
Name of the angle
Example
Equality

1.

Corresponding Angles

a and e, b and f, c and g, d and h
a = e, b = f, c = g, d = h

2.

Alternate Interior Angles

c and e, d and f
c = e, d = f

3.

Alternate Exterior Angles

a and g, b and h
a = g, b = h

4.

Vertically Opposite Angles

a and c, b and d, e and g, f and h
a = c, b = d, e = g, f = h
Thus, the properties of Parallel Lines are as follows:
Corresponding angles so formed are equal.
Vertically opposite angles so formed are equal.
Alternate interior angles so formed are equal and the pair of interior angles on the same side of the transversal is supplementary.
Alternate exterior angles so formed are equal.
Parallel Lines Equation
The equation of a line is generally written in the slope-intercept form as y=mx+b, where mm is the slope and b is the y-intercept. The value of m determines the slope or gradient and tells us how steep the line is. m is the value of change in the value of y for every change in the value of x i.e., y/x. b is the value of y when x=0. The slope of any two parallel lines is the same. Parallel lines have different y-intercepts and have no points in common. Have a look at the diagram given here in order to understand the equations of parallel lines and how the slopes of parallel lines can be the same:
Parallel Lines Symbol
Parallel lines are the lines that never meet each other, no matter how long you extend them. The symbol used to denote parallel lines is ||. For example, AB II PQ indicates that line AB is parallel to line PQ. ∦ - this symbol denotes non-parallel lines. ⋕ - this symbol denotes equal and parallel lines.
How do you Know if Lines are Parallel?
The special pair of angles formed by two lines and a transversal could be used to test the parallelism of lines. Two lines will be parallel if any one of the followings conditions is fulfilled.
Any pair of corresponding angles are equal
Any pair of alternate interior angles are equal
Any pair of alternate exterior angles are equal
Consecutive interior angles (co-interior) angles are supplementary
A set of parallel lines intersected by a transversal will automatically fulfill all the above conditions.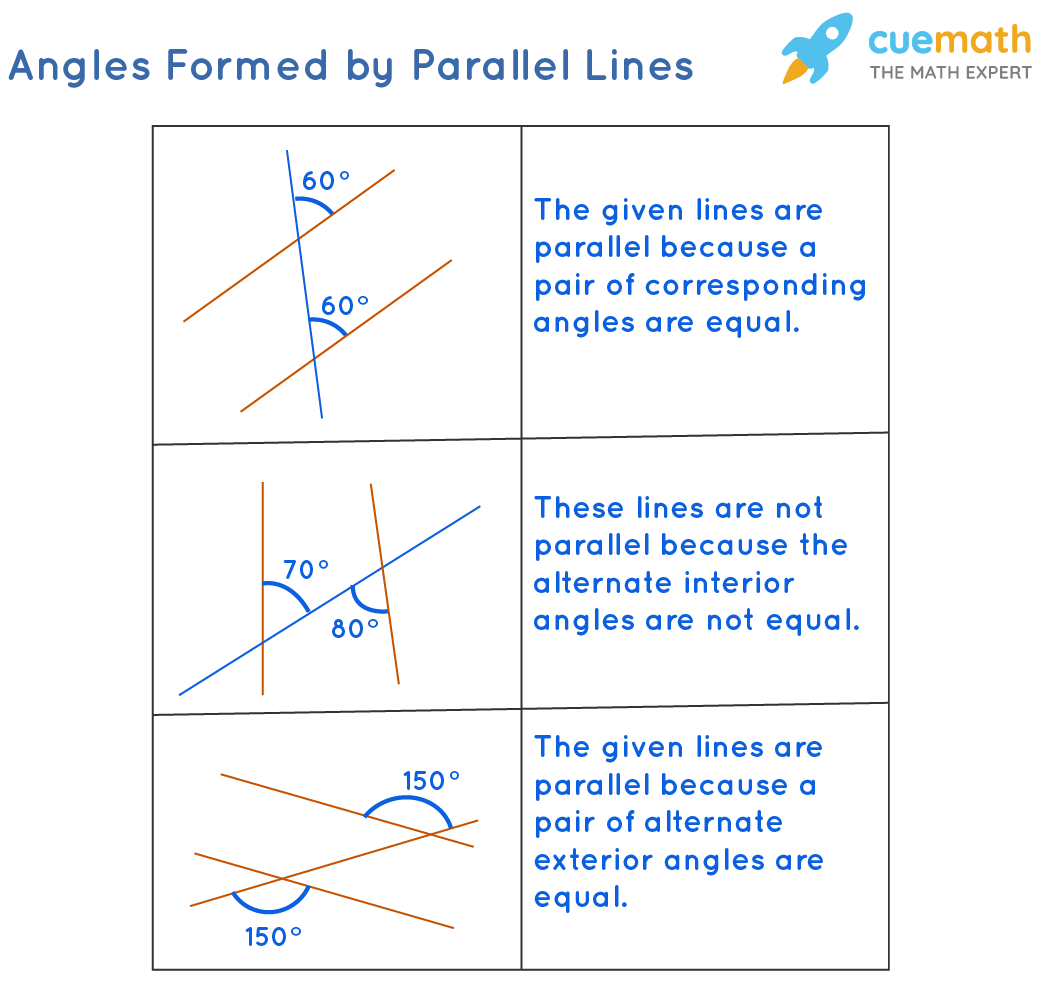 Do Parallel Lines Always Have to be Straight?
Lines do not have to be always straight to be parallel. To be called parallel, they should be equidistant throughout their length. Curved lines could also be parallel if they never meet and remain equidistant. The below-given curvy lines are equidistant and are thus parallel too!
Important Notes on Parallel Lines
Given below are a few important points that can help you solve problems based on parallel lines.
Parallel lines never intersect with each other or meet at any point.
Parallel lines have the same slope on a coordinate plane.
Parallel lines need not be always straight. Curvy lines can be parallel too.
---
Solved Examples on Parallel Lines
Example 1: Find the slope of the line parallel to the line 10x–2y=12.

Solution:

To find the slope of this line we need to get the line into slope-intercept form y = mx + b, which means we need to solve for y. The slope of the line 10x – 2y = 12 is m = 10/2 = 5. ∴ the slope of every line parallel to this line would have to have slope 5, i.e., the value of m=5.

Example 2: If line m II n and ∠a=21o, what will be the measure of ∠b?

Solution:

Since line m II n and ∠a is supplementary to angle b. Thus, ∠b=180o−21o =159o. ∴ ∠b = 159o
Show Answer >
Have questions on basic mathematical concepts?
Become a problem-solving champ using logic, not rules. Learn the why behind math with our certified experts
Practice Questions on Parallel Lines
Check Answer >
FAQs on Parallel Lines
What Angles are Formed by Parallel Lines and Transversals?
When two lines get crossover by a transversal, the following angles are formed:
Corresponding Angles
Alternate Interior Angles
Alternate Exterior Angles
Supplementary Angles.
What are Real-World Examples of Parallel Lines?
The real-life examples of parallel lines include railroad tracks, the edges of sidewalks, rails of a ladder, never-ending rail tracks, opposite sides of a ruler, opposite edges of a pen, eraser, etc.
What is the Rule for Parallel Lines?
The rule for parallel lines is that the lines should not meet each other. In other words, having the same value of slopes should also work.
How do you Know if Lines are Parallel?
If we extend the lines up to infinity, and they still do not intersect, we know that the lines are parallel. Also, if the slopes given for the two lines are the same, then also they are known to be parallel.
What is the Symbol for Parallel Lines?
The symbol used to denote parallel lines is ||. Any two parallel lines AB and CD will be represented as AB||CD
Do Parallel Lines Meet in Infinity?
No, the definition itself suggests that these lines never meet. Hence, parallel lines would not meet up even at infinity.