Learn
Class 9
from a handpicked tutor in
LIVE 1-to-1
classes
Class 9 Maths
Class 9 Maths is the base of secondary-stage math learning that promotes various computational skills. It solidifies the mathematical understanding of concepts based on coordinate geometry, number system, algebra, trigonometry, mensuration, statistics, graphs, etc. Class 9 math helps students to gradually shift their concrete mathematical knowledge into abstract concepts and topics. Thus, studying each and every topic covered under 9th-class maths is highly important for students.
Class 9 Maths Syllabus
Class 9 Maths syllabus is thoroughly prepared to help young learners acquire basic mathematical concepts with ease. The syllabus of class 9 comprises topics related to fractions and more. Here is the complete syllabus of 9th class maths.
Number Systems
Algebra
Polynomials
Linear Equations in Two Variables
Coordinate Geometry
names and terms associated with the coordinate plane, notations
plotting points in the plane.
Geometry
Statistics and Probability
Introduction to Statistics - Collection of data, presentation of data (tabular form, ungrouped/grouped, bar graphs, histograms)
Probability

History, repeated experiments and observed frequency approach to finding probability.
Study of empirical probability using real-life examples and also using examples from the statistics chapter
Develop 9th Class Maths Skills
9th class maths focuses on developing various real-life skills in students. Students progress their basic mathematical skills related to geometry, statistics, probability, linear equations, polynomials, and so on. A thorough understanding of these 9th maths concepts can be implemented through various interactive activities and visualization. Here are some of the basic class 9 maths skills and concepts that are applicable in further grades.
Numbers System
In class 9, students extend their understanding of numbers to rational and irrational numbers and also work with exponents, decimals and various measurement units. 9th maths emphasises using these numbers in algebraic expressions, equations and calculations to define and solve real-life problems.
Coordinate Geometry
In 9th class maths, students get a chance to learn more concepts of coordinate geometry like plotting the linear equations in two variables along with plotting points. This knowledge is very helpful for 9th maths students when they enter the higher grades and learn the concepts of straight lines, functions, and so on.
Class 9 Maths Tips and Tricks
Class 9 maths is an important part of academics that establishes a firm foundation for the following years. Here are some useful tips and tricks for 9th students to learn and score well in exams.
Follow Daily Practice Routine: Class 9 maths is the basis for various higher-level maths skills thus students must implement a well-defined preparation strategy. Students should sincerely perform their everyday practice.
Solve Previous Years' Question Papers: Practicing question papers from previous years will help students to get an idea of the complexity level of the exam. It will also benefit students in enhancing their speed and accuracy
Cover Full Syllabus: Covering the full syllabus of 9th maths is a must for students to clarify all their doubts before exams.
Refer to Reliable Study material: Refer to reliable study material like the prescribed textbooks for class 9 maths. These are the best preparation resources as the class 9 maths exam is set according to them.
Class 9 Maths Worksheets
Class 9 maths worksheets build a strong foundation of concepts as they include extra questions for class 9 maths. They are curated in a way that they include all topics and all difficulty levels. Hence providing worksheets to the students is one of the best teaching strategies. These worksheets help the students to increase their analytical and logical thinking skills. After solving the worksheets, by checking their answers with the answers given at the end of the worksheets, they can analyze their areas of weakness and rework on those areas to build strong conceptual knowledge.
Class 9 Maths Formulas
For 9th maths students, it is really important to memorize the formulas. Class 9 maths involves several formulas related to algebra, mensuration, statistics, and more. The important formulas are listed below:
For more formulas, you can visit our class 9 maths formulas page.
Solved Examples on Class 9 Maths
Example 1: What is the degree of the polynomial 3 - y2?
Solution:
To find the degree of the polynomial, first the degree of each term in it should be found. Here:
degree of 3 is 0 (as it is constant)
degree of y2 is 2 (as the exponent is 2)
Here, the highest degree is 2 and this is the degree of the given polynomial.
Answer: The degree is 2.
Example 2: The dimensions of a room are 6 m × 5 m × 4 m. Find the cost of painting its walls at the rate of Rs. 11 per square meter?
Solution:
Room is in the shape of a cuboid whose length is, l = 6 m, width is, w = 5m, and height is, h = 4 cm.
Its surface area = 2 (6 × 5 + 5 × 4 + 4 × 6) = 148 m2.
The cost of painting it per square meter is Rs.11. Thus, the total cost = 148 × 11 = Rs. 1628.
Answer: The total cost of painting the room is Rs.1,628.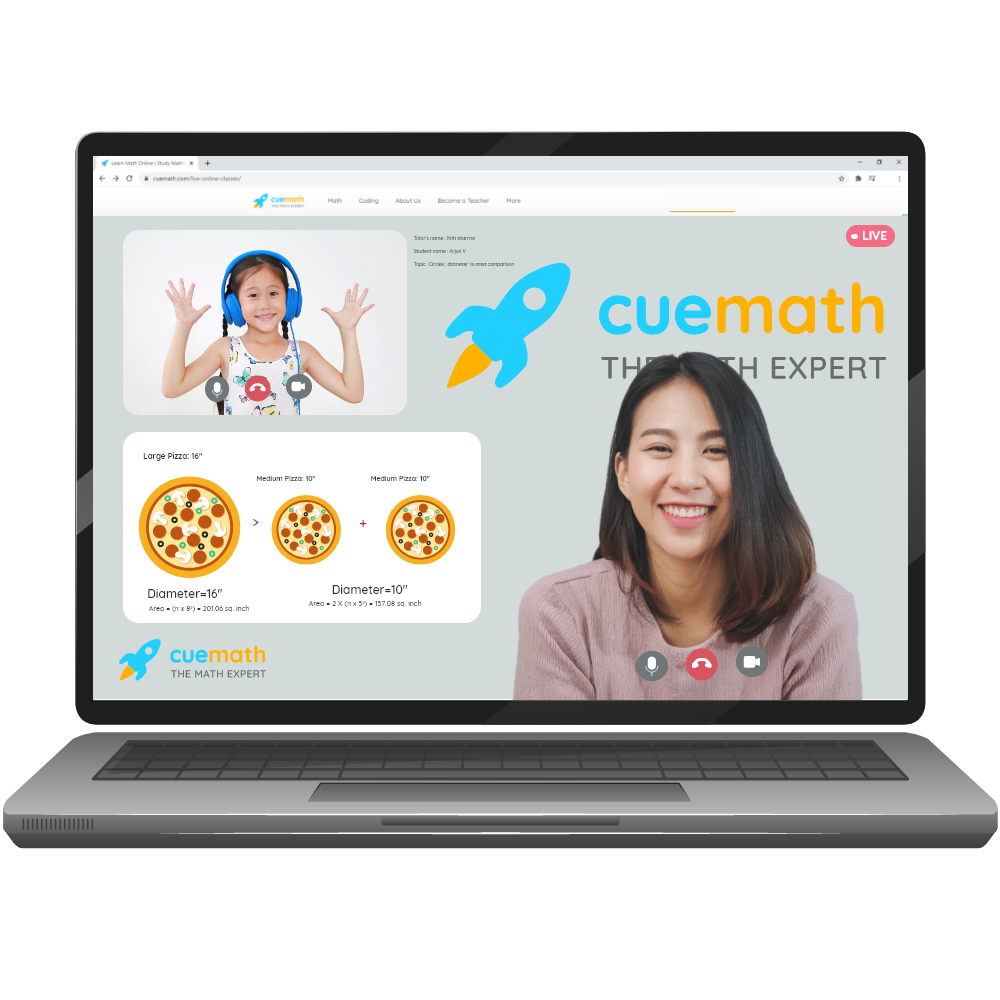 Have questions on basic mathematical concepts?
Become a problem-solving champ using logic, not rules. Learn the why behind math with our certified experts
Practice Questions on 9th Class Maths
Check Answer >
FAQs on Class 9 Maths
What are the Topics of Class 9 Maths?
Keeping a copy of class 9 maths helps students to have an idea of what they are going to learn in the current academic year. Here is a brief list of 9th class maths topics and for the detailed list, just scroll up.
Number System with rational and irrational numbers
Linear equations in two variables and graphing
Polynomials with remainder theorem and factor theorem
Coordinate geometry with plotting points and lines
Lines and angles with properties of angles of transversal and angles of triangles
Congruence of triangles with rules
Quadrilaterals with theorems on parallelograms
Circles and circle theorems
Mensuration with SA and volume of a cube, cuboid, sphere, cone, and cylinder
Statistics with finding the mean of grouped data and frequency polygons
Probability with real life and statistical examples
What is the Use of Class 9 Maths Solutions?
Class 9 maths solutions have step-by-step solutions for maths problems. Keeping them handy is very useful for the students to refer to when they get stuck solving problems.
Is 9th Maths Difficult?
No, 9th maths is not very difficult except for a few topics like theorems on parallelograms and circles. Expertise can be achieved even in these difficult topics by constant practice.
How Do You Get 100% in Class 9 Maths?
To get 100% in 9th class maths, all the topics should be focused on, not only the easier ones. It is advised to have the chapter names according to the weightage allotted to it by the school board. For getting 100%, students should be thorough with all the concepts and not only with solving the questions.
What is Frequency in 9th Class Maths?
Frequency in class 9 maths is usually seen in the statistics chapter. It is usually the second column of the table of data. It represents the number of data values. For example, if the first column of the table is height of students and the second column is frequency, then the frequency of 10 against the height of students 100-110 cm means that there are 10 students whose height is in between 100 cm to 110 cm.
What is the Easiest Chapter in Class 9 Maths?
Some chapters of class 9 maths are very easy like number system, polynomials, statistics, etc. But the number system is the one which most of the 9th maths students feel very easier.
Is Class 9 Maths Easier Compared to Class 10 Maths?
It might be assumed that class 9 maths is easier than 10th maths as it belongs to a lower grade. But in fact, class 9 maths has a few difficult topics such as congruence, quadrilaterals, circles, etc. Hence, class 10 maths is easier.
Why Should We Practice Extra Questions for Class 9 Maths?
Of course, text book questions and solved examples should be practised first to get an idea of the concept. But to get an in-depth understanding of the concept and to achieve application skills, extra questions for class 9 maths would al
Math worksheets and
visual curriculum